Local History Learning
We can provide local history learning for individuals and organisations who wish to run complex learning projects.
For people who want to undertake their own local history learning Archives Alive can provide training and mentoring to people of any age, from school children through to retired people. We can teach you how to use archive documents to research your chosen subject via a half day workshop or a 1hr lecture. We also offer one to one mentoring if you are new to research and would appreciate help to get started.
For school children we can deliver a half hour lesson or more in using archives and undertaking local history research or can work with schools to deliver a local history package as part of the national curriculum.
For organisations who wish to run local history learning projects we can offer project development and delivery services, including for Heritage Lottery Fund applications.
Case study 1: Time and Tides local history and community arts project — ICON Theatre, Chatham
"ICON Theatre in Chatham, Kent was awarded an Our Heritage Grant from the Heritage Lottery Fund to run a local history and community arts learning project and we commissioned Nicola from Archives Alive to deliver the project. She delivered the project on time and on budget having met and exceeded all our promised targets to the HLF.
It was the first time we had run a project like this and Nicola's project management skills, relationship building skills and heritage knowledge, skills and contacts were invaluable.
She ran six recruitment, taster and public consultation / engagement events for volunteers and participants on the project; ran an oral history project for us; provided training and mentoring to people wishing to undertake local history research; coordinated with the arts practioners and website designer on the project; organised and delivered a programme of heritage events for adult learners and worked with our three partner schools and an education consultant to run a schools learning programme.
Finally she brought together all the strands of the project into three travelling exhibitions and public launch events. Flushed with our success we have more plans to incorporate heritage events into our drama programme in the future."
Nancy Hirst, Director ICON Theatre, Chatham
Case study 2: Intergenerational oral history project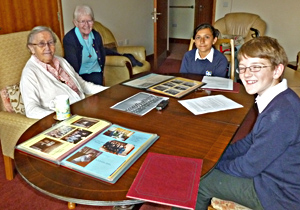 Archives Alive ran an oral history project which brought together school children from year 8 and elderly nuns from the local convent. The pupils interviewed the sisters about life during the Second World War and their subsequent lives as missionaries, teachers and religious sisters.
Some of the children commented:
"This experience has taught me that oral evidence is very valuable, because the people who were alive then have so many stories, that people don't really bother to ask about. I think they enjoy being asked, and remembering their past."
"The most interesting and fascinating things in my interview with Sr. Bernadette were how many different places nuns will travel to around the globe to set up new convents. For example, she went to places in Oceania, New Zealand and Australia, and to Rome where she stayed for a very long time. Her favourite memory about going to these places was meeting the native people in Oceania and getting to know their tribal customs."
"The most interesting part was talking to someone that was actually alive when a major event happened, and being able to hear about all the things she had to do and all the emotions. Also it was good being able to ask questions and getting told what it was like in amazing detail and with a degree of truth and facts that no text book can tell you about."
Where next? Contact Archives Alive for a quote!